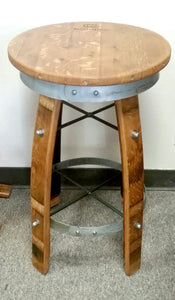 This bar stool has been hand crafted to be stable, strong and durable. The oak wood from the re-purpose wine barrel that it came from will make this stool last a life time.
Weight: 26.4. lbs
Dimensions: 17 x 17 x 28 in
Height's available: 26", 28" and 30" - Contact us for a custom height
Please contact us if you wish to customize any of our items. We offer laser engraving.
Each individual item's appearance and color may vary due to the reclaimed barrel materials used.
Howard Feed-N-Wax can be used to polish and conserve the wood (can be found at the Home Depot).